NAUGHTY OR NICE – KRAMPUS WAS HERE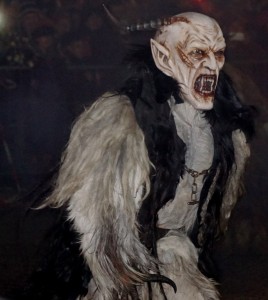 That time of year again… I passed the Krampus test. How about you?
Schloss Neugebäude in Vienna and the Krampusse were once again on the loose. Would have enjoyed seeing all the boys aged 5 – 13 who had elbowed their ways to the front of the crowds, rush to duck behind their Dads when the beasts came galloping out, gnashing their fangs, rustling their chains, chiming their cow bells, and then charging straight for those rascals. Yep, quite a scene. Or it would have been, had I not been plagued myself with a miniscule tinge of concern that those Krampusse might do some sloppy detective work or someone could have slipped them some false intel and they could have accidentally mistaken me for someone who had misbehaved this year. Fortunately, the Katscher Krampusse filled their baskets with folks obviously much naughtier than me and I could duck off into the 73A at the end of the evening and bring some scenes fresh from the castle straight to your home or workplace or man cave, far away and safe from those hunting, hungry demons. Then again, they travel fast and you might be in a completely different time zone, so best stay alert, tune an ear for the cling of cow bells, and clang of chains and random grunts and your nose sensitized to goat odors. And if they come? Be sure to take a selfie and post. And keep your GPS on your phone switched on. The NSA, Facebook, LinkedIn or the online Christmas vendors are bound to find you eventually – and start posting you ads for goat food, ear plugs, chain cutters and a nice vacation away from the cave.
Need more Krampus facts? Check out these posts:
Krampus is Coming to Get You (+ Bonus Krampus 101 List)
18 Telltale Signs Your Guy's Really a Krampus
How Much More Austrian Do You Want – Christoph Waltz explains Krampus